Converted from our popular Product for Opera (16 bit), the Imprint Import/Export software provides a link from Imprint Printers MIS system into the Pegasus Opera Sales and Purchase Ledgers. As with all Corrin Products, this software has the same "look and feel" as Pegasus Opera and provides a seamless integration into Pegasus business software.
For both the Sales and Purchase Ledgers the Imprint Printers MIS system outputs two files - a transaction (header) file and an analysis (detail) file. These files are provided in CSV format, which can be imported into Pegasus Opera to create Invoices and Credit Notes.
The operating procedures are the same for both Ledgers. Validation performed on the CSV files includes: Invoice/Credit Number, Sales/Supplier Code, Vat Code, Foreign Currency Code and Foreign Currency Exchange & Foreign Currency Value. Full details of validation are available upon request.
If any records fail the validation the entire batch is rejected and the user can view exception reports listing the records of both files and the individual reason for rejection. Where there are no exceptions, the total number of accepted records is displayed on screen and the option is given to continue and update the Ledgers.
If update is selected all transactions are posted to the Ledgers and the user is given the option to print a report listing the transactions. The option to delete the imported CSV files is then provided.
An export file is also created, called SLCRED.RSV. This is a credit information file that can be imported back into the Imprint Printers MIS system. The RSV file is automatically created each time a user logs onto Pegasus Opera - the routine can also be run manually. There is the option available to export the RSV file for multiple companies set up within Opera.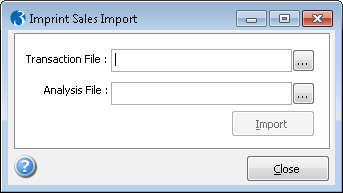 Customisable

Imprint Import can be customised to match user's additional requirements.