This software allows the creation of Purchase Orders, or Uncommitted Purchase Order Documents, when a Sales Order or Direct Delivery is being posted. Back To Back has the same "look and feel" as Pegasus Opera and provides a seamless integration between SOP and POP.
An options screen allows the user to specify Bak2Bak Types. Each type can have preferences attached, such as a default Supplier code. Cross references are recorded in both the Purchase and Sales Orders - this is controlled via these options.
An interface window is activated after the posting of a Sales Order. This allows the user to mark which lines on the Sales Order they wish to be placed on the Purchase Order.
The user must specify which supplier is to be used with full supplier searching and validation. Within the interface window the user can see the supplier name and address and also the stock figures for all warehouses and for the order specified warehouse. After accepting the interface information a Purchase Order or Uncommitted Purchase Order Document is generated with default prices extracted from the Pegasus Opera Product or Stock files and all the discount rules for the supplier are applied. The Purchase Order is created in the currency of the supplier.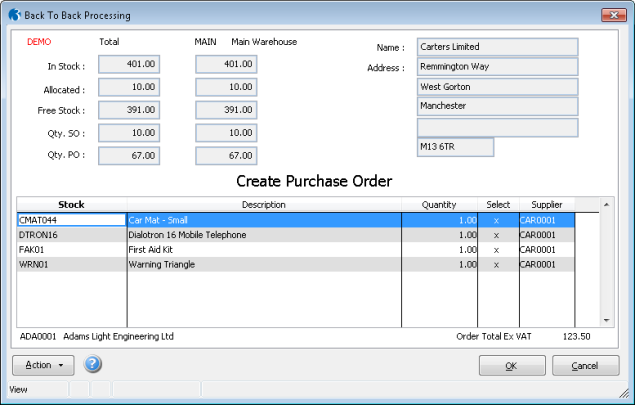 Customisable

Back To Back can be customised to match user's additional requirements.

Dependencies

Back To Back requires Pegasus Opera SOP, POP and Toolkit modules.