This Product allows multiple copies of Quotes, Proformas, Orders, Deliveries, Invoices, Credits & Documents to be printed from within SOP/Invoicing & Batch Processing in Opera in one easy step. The number of copies to be printed is defined via SOP/Invoicing, Utilities, Multiple Document Copy Options.
The number of copies defaults to 4, but can be adjusted to that required within the range of 1-99. There are 7 new options on the Multiple Document Copy Options Action menu called Quote Text, Proforma Text, Order Text, Delivery Text, Invoice Text, Credit Text & Document Text which allows the user to define different headings for different copies.
Please note: multiple copies will only be printed within SOP/Invoicing Processing and Batch Processing. Repeat Invoicing will not allow for multiple copies to be printed.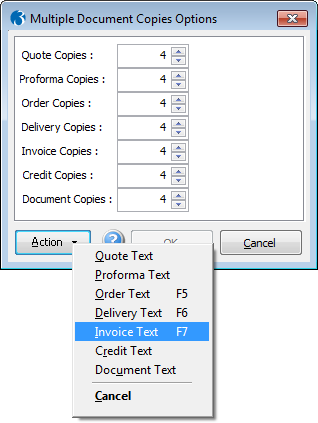 Customisable

Multiple Document Copies can be customised to match user's additional requirements.